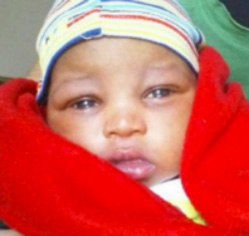 Tumaini Fortson
Tumaini means "hope" in Swahili.
This precious little boy was about five days old when he was left outside the government hospital. His mother has been found and the police intend to charge her with attempted murder which would seem to add tragedy upon tragedy for this baby and the mother. There is probably no place on earth worse than an African prison. These mothers abandon their babies out of dire poverty, desperation and sometimes fear. Often they are young, or they are from a religion that still believes in stoning for sins. Surely these mothers need help but it is a sad thing to think of these mothers being sent to prison. We hope to address this problem in the future with a new Mothering Center when we build Neema Village. Maybe the Police could send the mothers to us instead of putting them in prison.
You can help sponsor the Neema babies with a monthly contribution or a onetime tax deductible gift. It is every expensive to keep a baby at Neema House. We spend around $1,500 on formula each month. Please help if you can. Donate on this website.