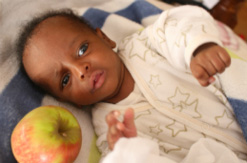 Osiligi Lorkinyei Saitage
Osiligi's mother died at his birth, an all too common occurrence here in Tanzania. He is from the Masaai tribe and the latest number we had was one mother in 39 dies from complications of childbirth in Africa. It is very sad for these dads who lose not only their wives but because they have no way of caring for the baby often lose their baby too.
Since African custom would prevent them as unmarried men, having a live in woman to care for the baby so unless there is a grandmother or aunt able to step to help then the father must find other arrangements for the baby. That is when Neema is called to help. Hopefully Osiligi will be able to go back home when he is stronger. You can help in the meantime by sponsoring this little guy.