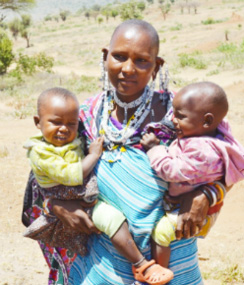 Nabulu & Mulo
Nabulu and Mulo, the Naoswack Twins
The Maasai people are very poor, most have never been to school and consequently do not know how to read or write. They live completely off their cows and do not have access to medical treatment. For some reason there are high numbers of multiple births in Tanzania. Because of the poor living conditions and mothers who are undernourished, twins and triplets are at risk of not surviving out in the villages.
When twins or triplets are born Neema House is often called to step in and provide formula, food for the family and medical treatment.
The trip out to the villages to take formula and supplies is a hard one day drive and petrol costs $6 per gallon in Tanzania. We could use your help in buying formula and helping these Off Campus babies.